Career stories and tips of a more experienced business school graduate are valuable information. Sometimes only one spot-on conversation may take you forward. With fast-track mentoring, you can meet a business school graduate colleague in order to discuss your professional development. Fast-track mentoring includes a single face-to-face meeting or a single telephone call.
We bring fitting actors and fast-track mentors together, and you can decide whether you meet or speak on the phone. You can also be matched with more than one suitable fast-track mentors and you can discuss with all of them.
We contact those who have signed up as actors within two days. Those who have signed up as mentors will be contacted as soon as we have found a suitable actor. 
The process of fast-track mentoring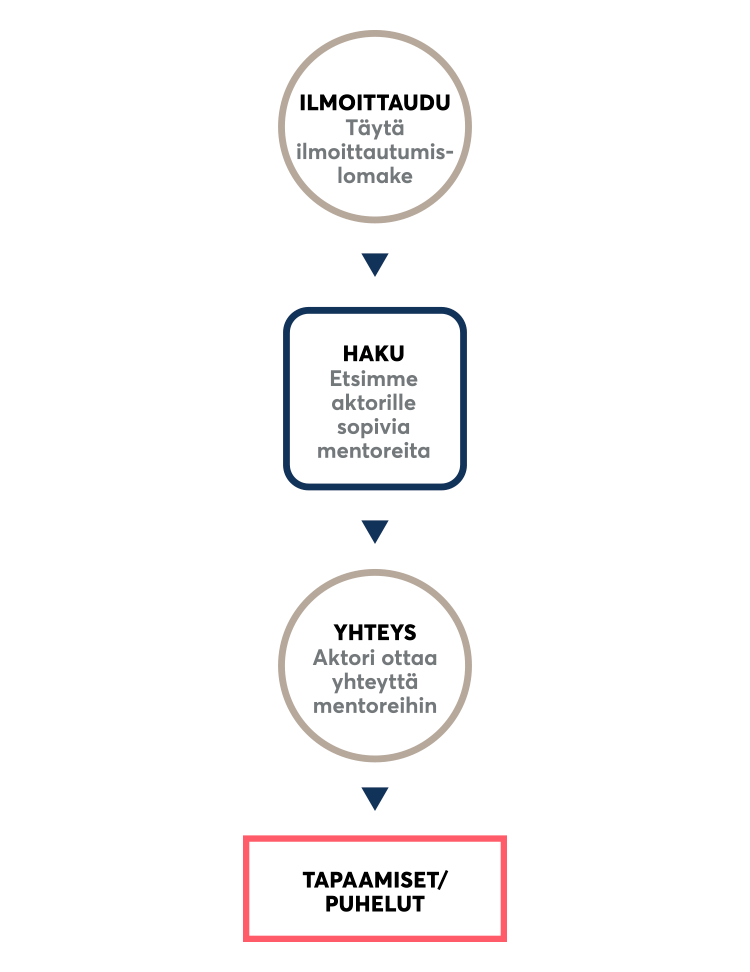 Ask more:
Henkilöä ei ole valittu.Henkilöä ei ole valittu.
You as a fast-track mentor?
As a fast-track mentor you can help, with your own expertise and experience, another student or graduate member who wishes to receive tips and insights in terms of his/her own career moves. Sharing your experiences makes you understand how much expertise you have actually gathered. You will enjoy helping others and maybe get fresh ideas and insights to your own work as well.
You as a fast-track actor?
As a graduate or KylteriPlus member of The Finnish Business School Graduates you are entitled to have a fast-track mentor. We have fast-track mentors from the management to the expert level. Some of our fast-track mentors can also support you in the challenges related to your studies, such as choosing your bachelor or master thesis topic.