The Finnish Business School Graduates actively promotes the quality of business education leading to a degree, and business sciences research. We also focus on skills promotion of business school graduates and on creating opportunities for competence development.
According to our member surveys, our members highly appreciate the work we do for improving the quality of business school education. Acknowledgement of business school graduates and business school education is built on the excellent skills and knowledge of business school students and graduates in working life, and on their ability to keep their skills up-to-date and develop them in an environment of constant change. Keeping up the quality and competitiveness of business school education requires constant measures to develop not only the education system itself but also the contents and methods of business education.
In order to reach our targets in the field of education policy we cooperate widely with, for example, universities, student associations, other labour market organisations and political parties. One of our closest cooperation partners is ABS, Association of Business Schools Finland.
In recent years, we have promoted the quality of business school education by e.g. the following means:
Resources to education and research
The Union Conference of The Finnish Business School Graduates decided in spring 2017 to capitalise ten business schools by a total of 500,000 euros. The sum was divided among the units on the basis of the number of Master's degrees completed in them.
Teaching and learning
Since 1998, we have awarded an annual Teaching Award, reflecting the importance of good teaching and teachers, and to promote the sharing of best practices between business school units. The theme of the Teaching Award is often selected on the basis of student feedback. Read more about the latest award winner here.
We have encouraged business school units to strengthen their nation-wide cooperation and the use of digital learning environments, to increase flexibility of business studies. As an example, we have participated together with these units in the launching of Online Learning Tools for Business Skills (in Finnish LITO) in 2017. It is about teaching and learning entirely online, and the eight learning units are produced by national cooperation. In late 2017, in the spirit of higher education vision project, we put forward together with our cooperation partners an initiative of a platform-based operational model for Finnish universities which offers students more flexibility to select courses from different universities and help universities profile themselves on the basis of their individual strengths.
On the basis of student feedback we have promoted cooperation between universities and business by, for example, supporting the book project 'Cooperation with Business in Teaching' and by distributing the book to the relevant business school units. Contacts to business life during studies was the theme of our Teaching Award in 2016 when we also organised a webinar on the theme.
Supporting the quality work of business school units
Every year, we gather feedback from fresh business school graduates, together with the business school units. On the basis of this feedback, we produce a summary for those units for developing their teaching and student guidance. In addition to annual reviews we also produce reports on, for example, the views on their studies and career of business school graduates with five years of working life experience. Download the 2017 reports here.
In 2016, we commissioned a 'Direction of Business Studies 2017' review to analyse the development of business studies during the past 10 years. Download the report here.
Timo Saranpää, the Chairman of The Finnish Business School Graduates presents a jade plant (literally 'money tree' in Finnish) to the Deputy Principal Jukka Vesalainen as a symbol of our capital grant to the University of Vaasa on 19 September 2017.
Ask more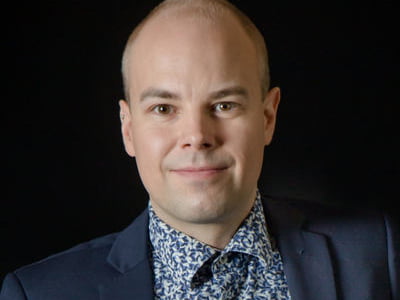 Parkkari Mika
Koulutuspolitiikan erityisasiantuntija
p. +358400802145