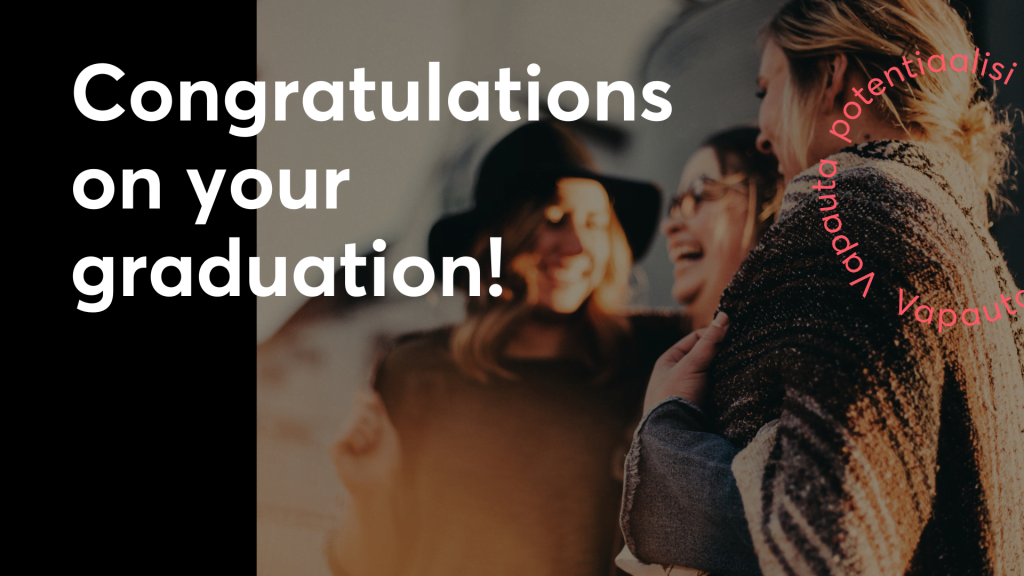 Congratulations on your graduation! Ensure the continuation of your membership of Suomen Ekonomit
After graduation, you can switch to a full membership with a -50% discount on the membership fee for the next 24 months. Even without the discount, is one of the lowest among similar organisations.
An education in business is a huge advantage in working life. We will make sure that your professional expertise will continue to be valued. We provide you with services that help you succeed and find your own path.
As a member, you gain:
A springboard and safety for your career
career services that help you excel at job seeking and find your own path
legal advice 
services for current and aspiring entrepreneurs
KOKO unemployment fund
Better wage development
Salary Radar for screening current pay levels based on experience, municipality and field, among other factors
Collective agreements which we negotiate for our members and which yield a significant portion of our members' pay raises
Solutions for developing competence
training courses on a variety of topics both live and online + webinar archive
mentoring programme
benefits on business magazines and trade journals
Valuable membership discounts
benefits on banking services (e.g. housing loan) and insurance policies
plenty of other discounts related to travel, leisure and wellness, for example
Better working life
The more of us there are, the more impact we can have: as a member, you will contribute to the voice of international business experts being heard in society.
We influence work practices that are important to international experts.
We promote equality, non-discrimination and diversity in working life.
We influence legislation and strive to eliminate work practices that hinder the success of our members, such as unnecessary non-competition agreements and excessive workloads.
Operations of local associations
As a member of Suomen Ekonomit, you are also a member of your local association for business school graduates. Local associations organise a variety of programming from laid-back recreational activities to events promoting professional development. The activities of the local associations provide an opportunity to learn about the local business school graduates or build a strong network.
A 50% discount for new members
If you become a member upon graduation, you will gain a 50% discount on the membership fee for the first two years.