Our lawyers can be reached between 9–12 on weekdays without an appointment. Please contact our emergency telephone service first, especially for urgent matters. In non-urgent matters, you can book an appointment.
What do the lawyer services include?
Individual guidance in working life-related legal matters
Mediation of workplace disputes
Legal assistance in a dispute or criminal matter concerning the member's work, official matters or business relationship
Legal advice for new entrepreneurs
Plenty of guides and agreement templates for various working life needs
The services are included in your membership fee and are completely confidential
We provide advice on matters related to Finnish legislation.
A long membership gives you a more comprehensive protection
Sometimes situations come up in working life where an employee and an employer get into such a bad dispute that they have to resort to litigation. In case of such circumstances, as a member of Suomen Ekonomit, you have the right to legal aid and liability insurance in accordance with the terms.
The condition for receiving legal aid is that you have been a member for at least 6 months before the event on the basis of which legal aid is granted.
In a dispute related to the employment relationship, legal aid covers the work of Suomen Ekonomit's lawyer and the court costs of the other party up to 5,000–20,000 euros, depending on the duration of your membership (see picture). The deductible is 20% of the other party's expenses.
NB! Student membership also accumulates membership years. Student members may use legal aid only if they have acquired the Kylteri Plus additional service package. Termination of membership resets the membership years.  
Read more about the legal aid terms.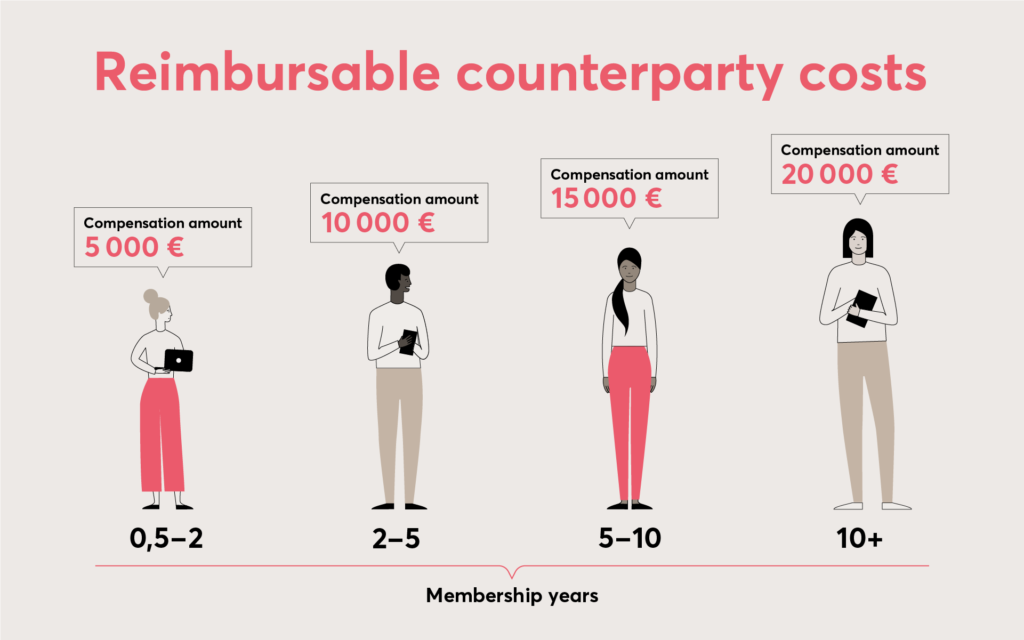 Read more about legal services
Telephone advice on labour law issues for employees and supervisors : Please have all your relevant information and documents ready for the call. Written material cannot be assessed during the telephone service, but our legal counsel may ask you to send necessary material separately in advance for further assessment and review.
Drafting of employment agreement and Managing Director's agreement: We comment on employment relationship related contracts, such as employment agreements, Managing Director's agreements and agreements on the termination of employment. Contracts are sent to the legal counsel for review and the legal counsel provides comments concerning the contract over the telephone at an appointment to be agreed on separately. For reviewing contracts, a minimum of two full working days has to be reserved.
Settlement of disputed employment issues with the employer : If necessary, our lawyer will settle employment relationship related disputes with the employer. This is usually the first step before potential legal proceedings. We will not contact your employer without your consent.
Legal aid. If the matter cannot be resolved amicably and you want to take the matter to court, we will make a legal aid decision. If legal aid is granted, our lawyer will assist you in court proceedings for the price of the membership fee. We also reimburse the counterparty's expenses in accordance with the terms.
Legal advice for new entrepreneurs: You will receive general information and guidance on the following matters: becoming an entrepreneur, an expert assignment agreement and a partnership agreement between a company's partners. We do not draft agreements, perform comprehensive reviews of proposed agreements or handle disputes regarding the interpretation or termination of contracts. Further, our services do not include tax advice or advice on social security matters.Contact our Entrepreneurs' legal service at: yrittajat@ekonomit.fi. Also see out other services tailored for entrepreneurs.
How quickly will I get service?
The response time depends on your question and the contact channel you choose. Some questions may be answered directly during a telephone call.
In matters requiring further review, we can usually respond within a few working days. For reviewing employment relationship related contracts, a minimum of two full working days has to be reserved. The response time may be longer during busy periods.
Sometimes there is a queue for our telephone service. In this case, your call will be forwarded to our customer service, where you can leave a call request for employment counseling if you wish. One of our lawyers will contact you as soon as possible. You can also stay on the line and wait for a legal counsel to answer your call.
Regarding reservations made through the appointment calendar, the matter will be dealt with during the reserved time.