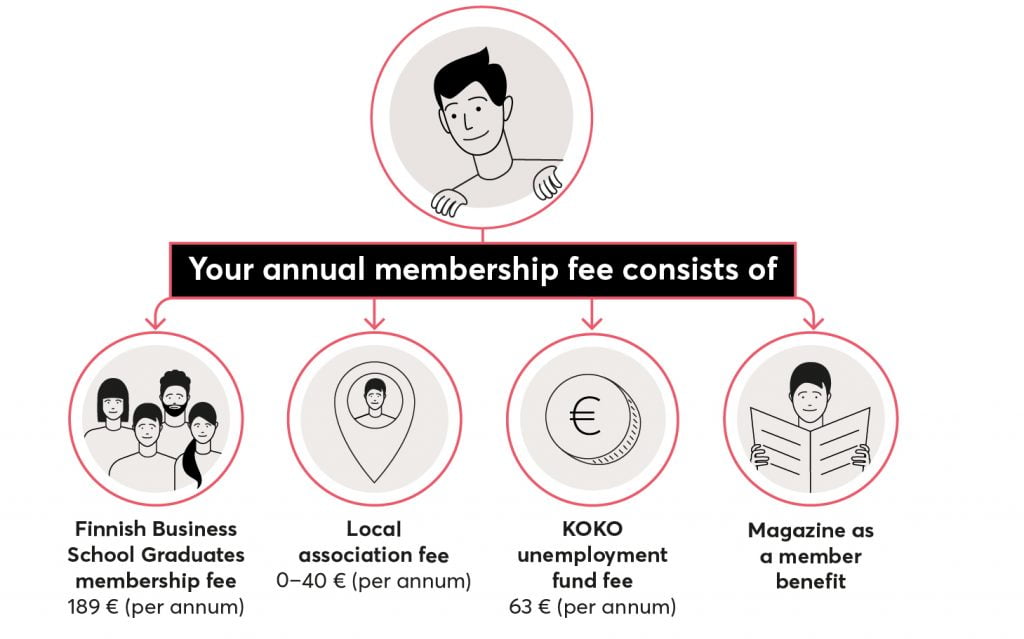 How is the membership fee formed? 
You can always customise your membership according to your preferences by selecting what it includes. The membership fee is always fully tax deductible. 
Your membership consists of the membership fees of the Finnish Business School Graduates and the local association and, if you so choose, the annual fee for the KOKO fund and a magazine subscription of your choice. 
The membership fee is formed as follows 
Suomen Ekonomit (The Business School Graduates in Finland)  
The basic membership fee is the same for everyone and includes a diverse range of services, membership benefits and interest representation services for business school graduates.   
What do you get? We agree upon the most important terms of employment relationships through collective agreements, ensure appropriate wage growth, and promote competitiveness, well-being and equality in working life. In addition to this, you will gain access to personal career coaching, expert lawyers to tackle employment-related issues, and first-rate events, training and online courses. The basic portion of the fee also includes the Ekonomi magazine for business school graduates. 
How much does it cost? €189/year – this amounts to slightly less than €16/month. This is one of the lowest fees among similar unions. Please note!
For students, Suomen Ekonomit membership is included in the student association's membership fee.   
Local association 
Your local association provides training courses, company visits and recreational events near you. It also enables you to network with other business school graduates in your area.  You are free to choose your local association.
What do you get? Access to relevant events in your area and excellent networking opportunities.  
How much does it cost? €0–40/year, depending on the local association. This amounts to no more than €3/month.  
KOKO unemployment fund 
Is it important to you to ensure that you have a financial safety net in case you are dismissed or laid off? Select the KOKO fund as part of your membership if you wish to receive earnings-related unemployment allowance (if the employment condition is met) when work is not available. As an example, working a full-time summer job for three months in two summer seasons is already enough to satisfy the condition regarding previous employment. 
What do you get? Membership of the KOKO unemployment fund. KOKO is the unemployment fund for a variety of professionals, such as engineers, architects and business school graduates. 
How much does it cost? €63/year. This means that you pay about €5.25 per month for the KOKO membership.  
Magazine as a membership benefit 
Are you interested in keeping abreast of important news related to technology, the economy or the financial sector? Choose a magazine as part of your membership if you value developing your professional expertise by staying informed of current events. 
What do you get? The Talouselämä magazine – or you can choose one of the following instead: Mikrobitti, Arvopaperi, Tivi, Tekniikka & talous or Kauppalehti Fakta.   
NOTE!
You can make changes to your membership through the electronic member service eLounge. 
Changes made before 31 December will be taken into account in the following year's membership fee. 
Are you a recent graduate, on family leave, unemployed, retired or on study leave? Read more about membership fee discounts here.