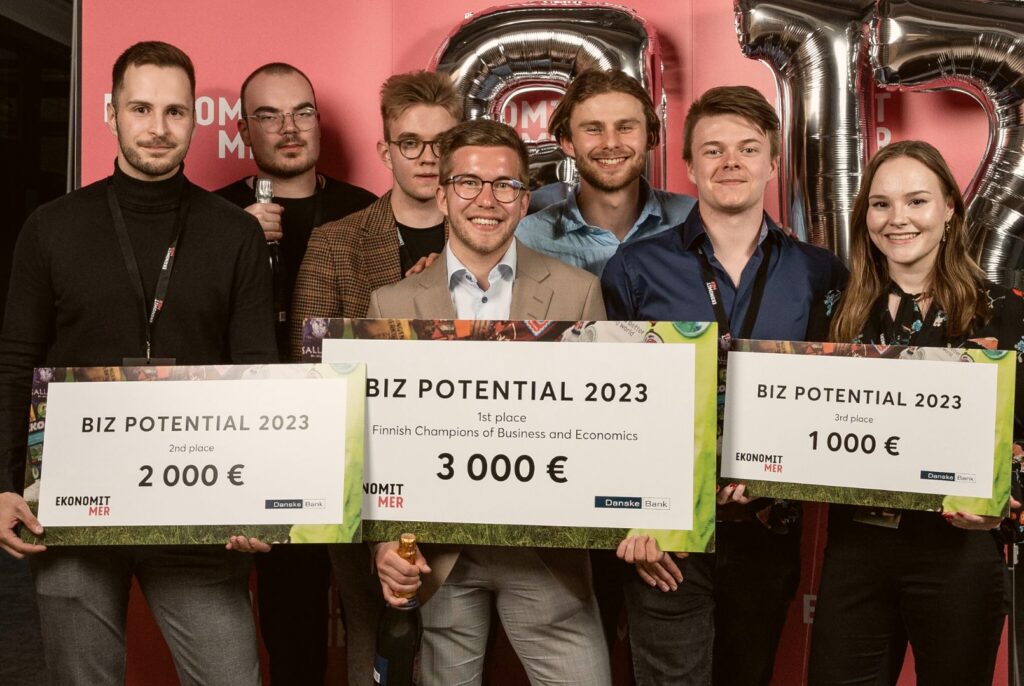 "The competition was extremely competitive, and the winner was chosen by a very small margin. The winning team impressed the judges with their in-depth analysis and effective structure in solving the case task," commented Max Liikka, the Chairman of the Jury and an education policy expert at Suomen Ekonomit. 
Biz Potential is a competition organized by Suomen Ekonomit and Danske Bank, for students of business and economics. The competition tests students' knowledge of economics and business through a theory exam and problem-solving case tasks. The winning team from SHS received a prize of €3,000 and the title of Finnish Champions of Business and Economics.
The team of Enklaavi ry came in second place and received €2,000, while the team of KY ry came in third place and received €1,000.
The top three teams from the competition will represent Finland in the Nordic Championship of Business and Economics, a competition for commerce and economics students in the Nordic countries, which will be held in either Norway or Denmark in the fall of 2023.
"We came to Jyväskylä with the goal to finnish in the better scored half of the teams but the win undeniably feels very good. The competition was very well organised and it was fun to get to take part in it. Jyväskylä as a city was also a positive surprise!" said Sebastian Ståhlberg, the captain of the winning team. 
The Biz Potential 2023 competition was open to all student members of Suomen Ekonomit. In the qualifying round, 42 teams competed for a spot in the final weekend, which took place at the Jyväskylä University School of Business and Economics. During the final weekend, 15 teams took the theory exam and a challenging case task, and the top four teams advanced to the fast-paced superfinal. In the superfinal, these teams took the stage and answered multiple-choice questions at a rapid pace.
For the first time, representative teams from all Finnish business student organizations participated in the final weekend. "The goal of having every business student organization participate in the competition was fulfilled, which was fantastic. It was great to see teams from different cities compete against each other. Hopefully, we will continue to see the same active participation in the coming years," commented Aku Buckbee, the project manager of the event. 
More information: