If you are a member of your local student association, you are also automatically a student member of Suomen Ekonomit. You can take your student membership to the next level by purchasing the KylteriPlus package, which provides you with a set of additional benefits for only €25/year.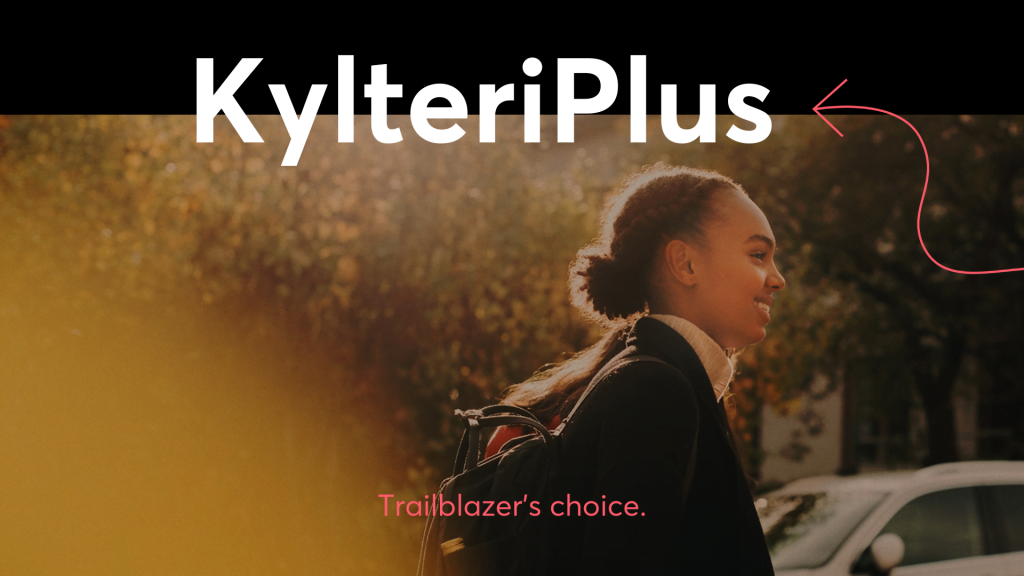 4+1 good reasons to purchase KylteriPlus
Find your way to working life with success. Are you concerned about finding work in your own field? With KylteriPlus, you have access to sparring for your CV and cover letter. The career coach can help you identify your areas of expertise and polish your CV and job application.
Educate yourself and follow quality media in Finnish. With KylteriPlus, you will receive a package which includes Kauppalehti for one year starting from the date of purchase as well as the magazines Optio and Fakta which both have 10 issues per year. Alternatively, you may choose Talouselämä.
Cover your back with legal aid. If you work alongside your studies, you can cover your back in working life with our legal aid and liability insurance. With KylteriPlus, you have the right to use the legal aid provided by Suomen Ekonomit.
Learn new things and gain experiences. KylteriPlus provides wide-ranging access to events and training courses.
You only pay €25 a year, but gain more than a €1,000 worth of services and benefits.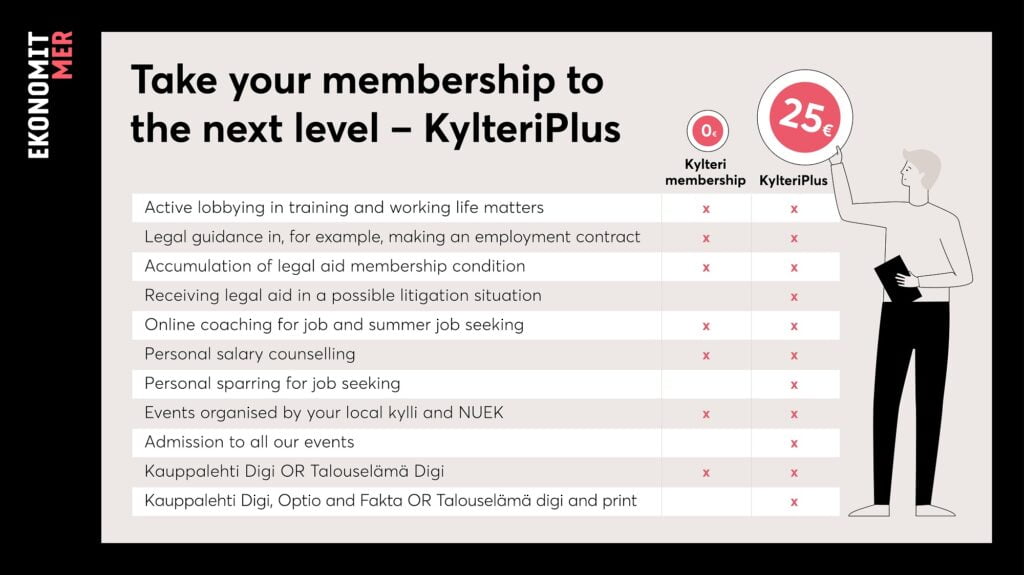 Do this
If you are not yet a student member: First become a student member.
If you are already a student member: Log in to the member service and purchase the KylteriPlus package quickly and easily.
The €25 annual fee for KylteriPlus is paid upon purchase. After the payment, you will receive a confirmation by e-mail. If you do not receive the message, please check your spam folder.
KylteriPlus will be in effect starting from the date of purchase. We reserve the right to change the content of the package at the beginning of the academic year.
Learn more about the benefits
Sparring for CV and cover letter
Precision sparring for your CV and cover letter helps you in perfecting your job application documents to best bring out your skills and interests and put you ahead of other jobseekers.
Sparring consists of two stages: "CV and cover letter fitness test" that you do by yourself and a sparring session with a career coach.
Diverse reading
Option 1: Kauppalehti + Optio + Fakta
You will receive digital Kauppalehti for one year starting from the date of purchase as well as the magazines Optio and Fakta which both have 10 issues per year.
The Optio magazine focuses on business and the economy, Fakta is a specialised magazine on management.
Kauppalehti explores new perspectives and opportunities for success. Kauppalehti includes comprehensive and contextualised news on companies, the economy, stock exchanges and society.
You can also make use of Kauppalehti's news application, which you can download at kl.fi/lataa. The application provides all of Kauppalehti's news, the daily newspaper, star stories for subscribers and the latest stock exchange releases.
Option 2: Talouselämä
Talouselämä is about people, companies, phenomena in the Finnish economy and working life – money and power as well. It looks beyond the surface and reveals what is going on. The issues open on analyses. Every year, the magazine looks into Finland's largest companies, the top female decision-makers, start-ups and growing companies, among other topics.
The printed magazine is published once a week.
Legal aid
Sometimes situations come up in working life where an employee and an employer get into such a bad dispute that they have to resort to litigation. In case of such circumstances, as a KylteriPlus member, you have the right to legal aid and liability insurance in accordance with the terms.
Access to a wide range of national and local events
You can participate in high-quality training courses and events organised throughout Finland. You gain information, deepen your understanding and hear about topical themes and development trends. At the same time, you have the opportunity to network with other business school graduates and students.
KylteriPlus provides you with access to almost all virtual and live events organised by the Finnish Business School Graduates. You will also have the opportunity to participate in the events of local associations. Please note that a small portion of the events may be subject to a fee. 
You can find the topical events in the event calendar.
Something to ask?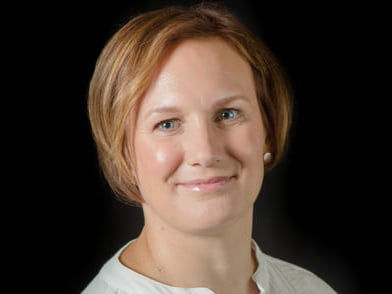 Grönholm Salla
Customer experience specialist
p. +358405159491